More than 50 years ago we were on our honeymoon and we ate at a restaurant in Orlando, Florida. We cannot recall the name unfortunately but we had a dinner there that was so delicious we went back and ate there again to have the same dish.
It was called Shrimp Louie Salad. We enjoyed it so much we asked for the recipe and the restaurant gave it to us. It is my understanding that Shrimp Louie Salad originated in California. The original recipe is quite different from what we had in Orlando.
Last night we had Shrimp Louie Salad. we eat Shrimp Louie salad several times each summer. It is the perfect cold dish to sit down to on those days when it is scorching hot outside and you don't want to heat up the kitchen.
The version we make consists of a bed of lettuce, strips of ham and cheese, hard boiled eggs cut into quarters and Shrimp Louie Dressing. We like to salt and pepper the eggs.
The dressing is what makes the dish so delicious. It resembles a remoulade but the flavor profiles is more complex because of how many ingredients are used. It consists of mayonnaise (Duke's, of course), ketchup, chili sauce, sweet chili sauce, horseradish, Worcestershire sauce, onion powder and a few dashes of Tobasco if the horseradish is not doing its job. In some respects we think the Tobasco makes the sauce even better but it is real easy to overheat the dressing. Everything is whisked together and allowed to chill and meld together in the refrigerator for several hours before dinner. The shrimp are peeled and deveined. The salad is assembled and allowed to thoroughly chill before serving. Then it is just a matter of putting as much of the dressing on the salad wherever you wish.
Below is a picture of the salad and its dressing before they are mated. There are strips of ham under all that but they are hard to see in the picture.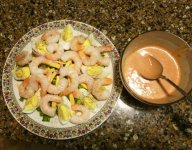 We love it!