Love the depth of detail you share
Thanks Tom. I sometimes feel like I am pushing way too much info for a given build. I am not trying to bore folks to death but hope that some folks who are newer to the craft may get some good out of things and not have to go thorough he same painful mistakes I have made
. I know I sure appreciated the threads by folks back in the day . . . we all start somewhere, right?
That being said here's the small pullouts after a first finish application.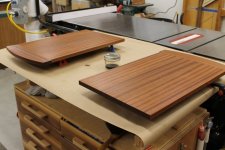 I hope to get to the top and backsplash this evening . . . we'll see.