I am on 'limited duty' and so have been taking care of a few items on the low-priority-to-do-list. I have wanted one of these on a couple of projects but, never thought I had the lead time to stop and make one. Turns out I was wrong. It didn't take long at all. Here's the general idea.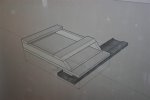 The scrap bin once again earns its keep by supplying all the parts. A piece of 1/2" BB ply becomes the bed. Ripped to width and cut to length on a sled to assure it is dead on.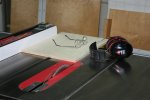 .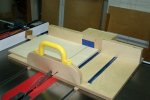 Some 3/4" BB ply scraps make up some other parts.
I use a v-groove bit to lower the plane body to where the iron comes into play just below the height of the bed.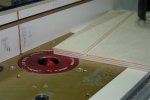 I didn't have time to wait for glue to set up so I used screws and kept on moving. The upper rail serves as support for the "top" of the plane sole mirroring the job done by the v-notch in the bed. This places the iron so that it cuts anything that fits into that space. I tested it out on some small red oak scrap. The joint is about an inch or so to the right of the square's tongue.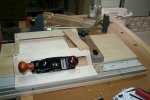 .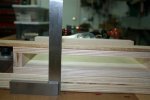 Here's a shot from above. Pretty nice fit for a version 1 jig.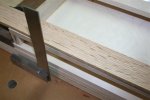 Of course, here's how we would actually join them if we were making something.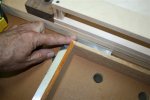 I should mention that there is a "runner" on the bottom that fits into the Veritas Shooting Board Track that I already have on my shooting board. This is not required and a regular 'hook' would do fine. But, it makes it real easy to just position the accessory in the track, slide it up to the fence, place the victim in the jig and have at it. I gave it a coat of shellac and paste waxed the running area. Moves really smooth. If you've been contemplating this sort of thing and don't need a full blown Donkey's Ear, have at it. It took a lot less effort than I thought.
Last edited: