What do you do when you're house bound and your favorite restaurants are closed to dine-in? Well, you cook, of course! Last Friday, I decided to do meatloaf on my Traeger smoker. The recipe I used incorporates 2lb beef and 1lb pork. We had ground our own meats for this, so it would be a coarser grind than typical market ground meat. Nothing fancy about the recipe. I dusted the loaves with a finishing powder I make for ribs and other smoked meats. Here's how it turned out: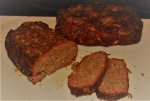 I had tried doing meatloaf on a smoker once before, but wasn't pleased with it because it sagged a lot. This time I used a recipe that isn't as juicy, so it held up perfectly.
I also made onion gravy to go with it.