Administrator
Staff member
Was discussing snake shot with another member of the group here (give you 2 guesses who, lol) and mentioned I had some in a few calibers and we were discussing the relative advantages of the different calibers and delivery vehicles.
It was suggested that I do a little research, so far be it for me to not share with the rest of the group.
Before I go any further, I just want to say that I recognize the ecological importance of snakes and their part in helping control the rodent population around my place. My practice is to live and let live whenever possible, but when a venomous snake happens to get too close to the house, my pets, and family, I tend to take action. I know of some people that will relocate rattlesnakes, but I'm not comfortable messing around with them. Out in the desert I would never think of shooting one since I would be the intruder in that situation.
All shots were taken at 5', except the .410, which was at 10'
.45 ACP pistol
.38 special pistol
.22 pistol
.22 rifle
.410 shotgun
Over all Results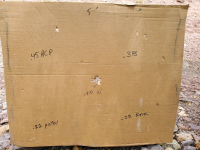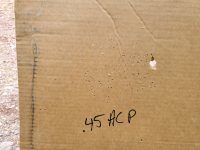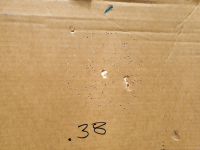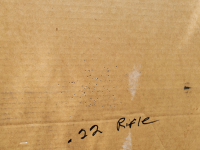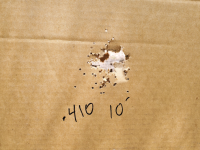 Just kind of interesting to see the difference in shot patterns. I've never really felt comfortable with the .22 shot shells, and in fact, for my money, the .410 tends to be a one shot solution.
The .22's seem to be almost needle like in size. The longer barrel of the rifle seemed to generate a tighter pattern than the pistol.
The .38 and .45 seem to have a bit larger pellet, and payload and seems like to me they would probably do a better job.
You can see where the wad hit the cardboard from .45. The .38 had the pellets in a plastic cap and I think the 2 bigger holes there are from the cap and the wad.
At any rate, was kind of a fun, quick little research project that I had not done previously.