I am in the process of building a cottage bed for my granddaughter. It will look like this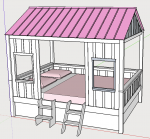 The frame members are poplar and the panels/roof are MDF. I want to spray on the finish, probably a satin or semi-gloss paint. I have an Earlex 6002 HVLP sprayer but have no real experience spraying paint. Looking for some guidance ... what paint type to use? thin it? add any conditioners? extenders? spray tip size? etc, etc. Any help is most appreciated.
I have reviewed the videos on the Earlex website. They say to thin a latex paint about 10%.