Administrator
Staff member
So, A friend of mine recently moved across the country. She had purchased a pretty nice Stickly table with some inlays in the corners.
During the move, the mover managed to mistreat the table and ding it up pretty bad.
When confronted with the damage, the mover had a local 'Wood Doctor' work on the table to fix the gouges.
The wood doctor said that they contacted stickley for advice on a finish to use to fix the table.
Now, here are the befores and afters.
It appear that the 'Wood Doctor' sanded the entire table top to remove the finish, stained it a slightly different color, and put in a different finish.
The owner has noticed that the 'new' finish has a completely different feel. Apparently, before it had a very nice smooth, almost glassy feel.
Now it is dull, and the wood doctor has told her to just 'wax' it to get it to have the same feel.
The other problem as I see it is that the inlay used to have some very sharp and crisp colors. It looks to me that the light colors have now been muddied up either by sanding the darker woods into it's pores, or from some kind of stain the 'wood doctor' applied.
We have no idea what kind of topcoat this 'wood doctor' applied, but what we do know is that it no longer has the same smooth tactile feel it had before the move.
The questions are:
1) Do you think this table has been damaged? Should the shipping company have to make amends above and beyond the damange this wood doctor has done.
2) Can this table be fixed? I.e. Can this stain and finish be removed? Can the inlay be salvaged? Could another skilled artisan fix the damage?
Any suggestions/help would be appreciated.
Thanks in advance for your help.
Table Before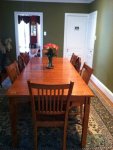 Table After I know it could be the camera, but the red color is gone and now it's more of an 'oakey brown'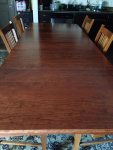 Inlay before, Clean lines, light colored sections are light colored
Inlay after. The light colors are stained somewhat darker, the dark colors are very dark and muddy.
Last edited: