Bed construction complete!
The corners of the base are held together with counter connectors. These are a big improvement over ones I've used in the past as they tighten using a 5mm allen wrench. Beats the heck out of the old captured hex nut!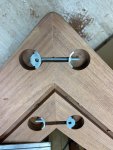 One challenge was mortising the foot rail for the bed rail connectors. I made a simple jig to guide the dado clean out bit that, fortunately, was a near perfect match to the dimensions of the connector.
My first attempt at high altitude routing.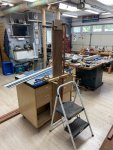 Just right!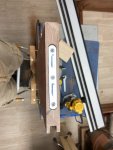 The boxes that support the box spring/mattress are torsion boxes. They have a 3" wide grid of 1/2" plywood and a 1/2" skin.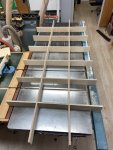 Those in turn are supported by 5 "I" beams with 3" webs and 2 1/2" flanges all of 3/4" plywood. Each one of these will support a 180# point load at its center with virtually no deflection.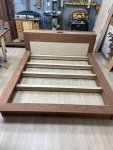 The final assembly, ready for finish.