I was busy designing a new sled to go with my old saw. On one of the trips to the garage for measurements I saw part of a sled poking out from under the rubble (my garage is jammed with twice as many things as should fit while waiting on the new shop). I pulled it out and decided that I could adapt it and make it serviceable. One of the runners was in a great spot, the other had to be moved about 5/8".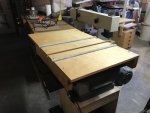 The UHMW runners also needed to be shaved down a bit. A shoulder plane makes quick, reliable work of this.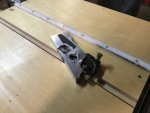 I put double stick tape on the runner and trim it to fit.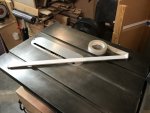 .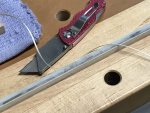 I put dimes in the slot to raise the runner slightly. I use clamps for reference stops for placing the sled and single runner onto the saw.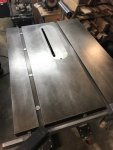 .
The tape sticks to the sled bottom. I flip it over and add screws.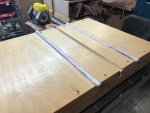 I make ZCI's in batches. Even in my current disorganized state I was able to find some blanks to replace the used ones. I also added a nicer handle. I position the handle on the rear fence so that when I grip the dummy block on the front fence with one hand and the handle with the other the sled is balanced and lifts off smoothly.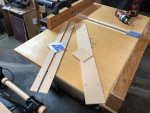 I use the 5-cut method to get to under a thou over the capacity of the sled which is about 22". That's not bragging . . . I was just plain lucky on one of the adjustments.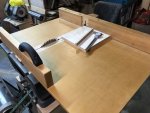 I put in the ZCI for the fence.
It's about as basic as it gets but, it's all set.
Last edited: