Along the line of Don Baer's saga, I have plumbers coming this morning to replace our boiler, water heaters, and garage heater. Fortunately, it's not an emergency job but what we have is original to the house (1984) and it's tired.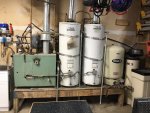 The platform they sit upon is really tired too, so huzzah, another project for me. Since the new boiler is narrower and we're going from two water heaters to one, the bench can be shorter but must be deeper to allow wall clearance to meet code. Here was the plan and the finished product: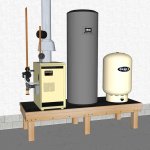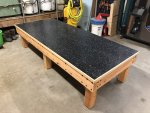 I'm no mechanical engineer but I respect the weight of water...having been a keeper of aquariums...so I made this thing an over-engineered, six-legged beast. It doesn't hurt that it's just a little prettier than the old one.
The new high efficiency boilers are so dear in cost that we opted to stick with a conventional cast iron boiler. They have a longer service life, anyway. However, we did upgrade the water heaters, going from two 40-gallon, gas-fired dinosaurs to a single 56-gallon indirect model that connects to the boiler. The hydronic garage heater will be updated to a low-profile model that has dual squirrel cage air movers rather than a single conventional fan.
They should be here any time now.