Administrator
Staff member
I've been playing guitar for over 55 years, and for almost 45 of those years (off and on) people have paid me to do it. In the '80s it was possible to make a living playing 6 nights a week in my local market, but that ship sailed decades ago. These days there's not as many venues paying for live music, and those that do, are only doing it one night per week, sometimes two. This makes it virtually impossible to actually make enough money to live on, at least in this market. I can't speak for all the musicians in Albuquerque, but in our band we aren't doing it for the money, we do it for the fun. We get paid enough money paid to cover gas and gear maintenance, but that's about it. And we don't play for free. (Actually,
I
play for free, but charge to move my equipment.
)
Tonight (Friday) night we played our monthly show at the local watering hole, and the place was packed with a bunch of very enthusiastic folks having a great time. I've posted photos of the band here before, so I figured I'd show you what
we
see. We were in between songs in the middle of the second set and I finally remembered to grab my phone and snap a quick photo of what it looks like from where I'm standing. (When we were actually playing, that dance floor was more full.) Out of the frame to the right in the back is another area about the same size with 4 pool tables, and from what I could see it was too crowded back there to comfortably play pool. The whole joint was literally packed.
This is why I play guitar.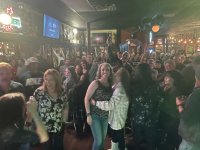 Last edited: