Administrator
Staff member
My wife's uncle built their house from logs on-site on land he bought after returning from nam. Its a pretty impressive structure, includes a solar wall and some solar panels. Heated with an outdoor wood burner, originally with an indoor wood burning stove.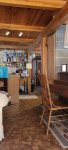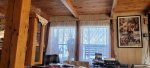 This last beam I noticed
looked like bark on the top edge, but then realized it was shimmed to level out the upstairs floor. He said it did that after it was built. He had to jack and shore up the floor, and insert the shim scribed to fill the gap. He did a pretty nice job scribing and cutting it.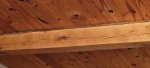 You can see the end of the shim here.
The outside walls are framed with studs between the timbers and insulated.
The roof is just trusses spanning the width of the structure, leaving an overhang on the front for the front porch.
Anyway, I thought the shim was an impressive feat.
Last edited: