Hi guys. As mentioned I learned two things that suck, one in the good (and literal) sense, and the other on the bad sense.
I am playing with my new cnc machine and I want to make a sign for my sister. Firts I tried with chipboard but soon I saw that the inner layers or wooddust were not as fine as the surface so I decided to try MDF.
So I started the sign anew in MDF, and after 45 or 50 minutes of milling (unantended) as I was on the garage, I heard a thud sound so went there stopped the machine and I found that my dustbin had collapsed.
Reason: MDF sometimes delaminates smal parts that clogged my cnc dust shoe and the power of my vacuum cleaner has been powerful enough to empty the air of the dustbin and the atmospheric pressure made it collapse. So my vacuum SUCKS! really well.
The other one is MDF, which I am finding that if that is going to be a recurrent problem MDF is not good for certain milling projects, So MDF SUCKS! in the bad meaning.
Question: Is there any way of making a DIY safety valve so this doesn't happen again? I am thinking about making a hole on the lid and puting a rubber disc attached from one side with a bolt and nut covering it from the inside of the lid, so that if the negative pressure increases due to clogging it will give in preventing this happening again, but I'm no so sure if it will work.
Any other sugesttions?
Here you can see the collapsed dustbin.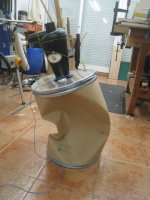 And here the MDF shavings that clogged the dustshoe. There were many more than shown here.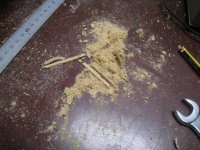 And if the final finish is going to be like this, MDF really sucks. I hope that with the finishing passes it will be ok as this is the roughing one.
Otherwise I'll have to find a different material.
Last edited: