They aren't for me; they are for my daughters.
I found plans for this cabinet in the October 2006 issue of Wood magazine:
I think that such a cabinet will be a good Christmas present for each of my daughters, Kathleen and Kristel. They are both married with young children and have small shops in their basements. Kathleen and Kristel both do some woodworking and enjoy it but their husbands are not
(yet?)
very interested except as a means to an end. A cabinet such as this will be a big help in organizing things (
so that I can find them when I am visiting
).
Kristel has enough space for a cabinet as per the plans, whereas I am going to have to reduce the size of the cabinet for Kathleen. I will build Kristel's with only slight modifications to the plan (
I have never built anything exactly to plan but these plans are better than most
), then make more changes for the smaller version.
I cut all the parts for the first cabinet this afternoon. Most of the cutting was done in the garage using my guided circular saw system on a temporary "table" that I use for cutting sheet goods. This table uses knock down saw horses supporting a sheet of plywood with foam attached.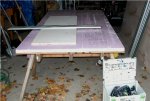 Here I am cutting pegboard: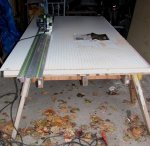 Since I was cutting in the garage with the door wide open, I did not bother to hook up a vacuum to the saw.
Here are all the parts for the first cabinet cut to size: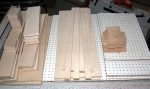 Last edited: