I am clearing out un used stuff from my shop and have 2 vacuum pumps I want to get rid of.
The first one is made by Gast and is rated at 1/8 HP these are selling new for over $600. it runs good and includes the Gages and filter. ready to plug in use. Great for vaneering or used as a vacuum chuck. I am asking $200. It is rated at 25.5" vacuum and 1.9 CFM...I will ship it but the freight not included. if interested send me a PM.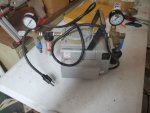 The second one is 1/3 Hp 110 Volt. Input made by ITT Pneumatics Model SYCGH Vacuum pump. It run great but come with no gages or filters.
I am asking $100. Again I will ship but the freight is not included in the price.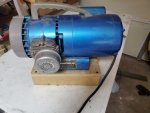 If your interested and living in the Metro Phoenix area I can deliver either on or if in Tucson we can meet in the middle.