A friend's sister does quilting. We talked about a rack back when I didn't have the shop finished and I completely forgot. Time to catch up.
Got the required specs from her and got approval on design number 4.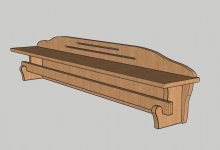 As always wood selection comes first. Like many materials, cherry comes in a variety of colors and figures. I found a couple of similar looking boards that will yield the parts.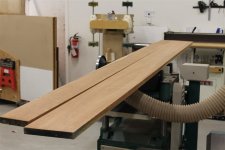 Rough blanks.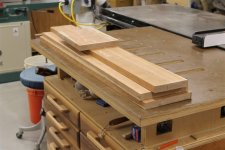 I milled to thickness and general size. The shape of the end brackets will let me cut around some pitch pockets in these blanks.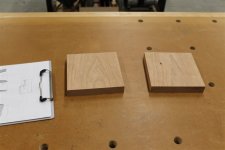 I rough the shape out at the bandsaw. Clean it up a bit with some rasps and cut the bottom of the rail notch like you would dovetail waste.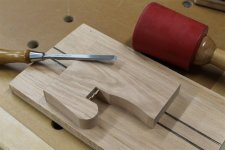 This gets me here.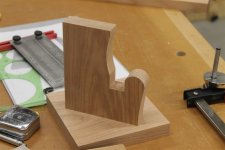 I have done a lot of Greene and Greene stuff. During that journey I picked up one of these double round overs. I find the 1/8" and 3/16" radius cutters handle most of what I need.
The bit comes with a variety of washer/spacers that allow setting for your material thickness.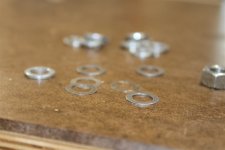 I use a bit of scrap to set the height and keep the leftover washers in a bag that fits in the tackle box cubby assigned to this bit.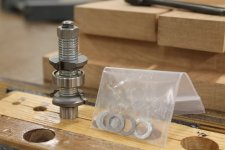 The purpose of the bit is to allow you to round both sides at once while always routing down hill. If you've seen much G&G style stuff you get why this is helpful. At any rate, I end up here. If you've ever wondered what you would do with a parrot vise, this is one thing. A little hand work and I end up here.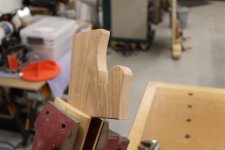 More to come.