This is definitely not fine woodworking, but it's the most use my wwing tools have seen in a while. I got asked to make a deathly hallow symbol as a "wedding arch" for my nephew and niece-in-law's Harry Potter themed wedding. It's about 81" tall x 81" wide, hinges in the middle and has removable feet for transport. Made from (4) 4" x 8' rustic planks from HD. The circle was cut as two semi-circles from 2'x4' 5/8" pressboard. All spray painted flat black.
I was a little bored with it once it was done, so I started thinking about surprising her with some backlighting, decorative chains, and some fiber optic strands dangling behind the chains. My daughters caught wind of that and promptly informed me of the error of my ways!
"Don't surprise the bride on her wedding day!"
Ok...message received
... so I contacted the bride and shared those ideas. Got the thumbs up on the back lighting and chains...thumbs down on the fiber optics. (I never did present the idea of a computerized laser show coming out the back
).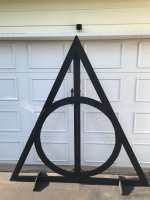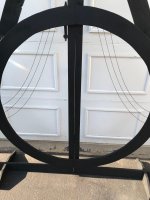 Last edited: