Administrator
Staff member
Well, That was a weekend for the record books.
My Buddy/Rhythm guitar player got our band
Off Yer Rocker
a gig at
The Old Washoe Club
for the
VCGP Virginia City Grand Prix
dirt bike race. The Old washoe club is the oldest saloon in town and is purportedly one of the most haunted places around. They were featured on one of the ghost hunter shows and run regular 'ghost' tours of the building.
3 of us rented a motorhome and drove up and camped on the Rhythm guitar players buddys house a couple blocks walking distance from the bar and that seemed to work out fine
It's a whole nother world for sure with a bunch of dirt bike riders starting right on main street in Virginia City then headed out onto one of the gnarliest dirt bike races there is.
We got setup on Friday and then proceeded to do a sound check that with a mini set that seemed to work out well.
Saturday Micah took me to see the start of the race which was just amazing to see over 450 racers lined up on main street. Later he took us to the Combination Mine shaft which was over 3 thousand feet deep and was right on the race course.
I'll admit I had some trepidations over this gig but everything went smoothly and a great time was had by all. It does seem like a lot of work moving big heavy equipment and running cables for a few hours a fun, but the new wireless mixer I bought on the advice of Vaughn makes setup a little faster, although it's maybe a bit more complicated than one of the old analog consoles. Got there on saturday and freaked out for a bit as I couldn't get the mixer app to load up on the tablet, but after a few reboots the ghosts relented and let things work fine the rest of the night.
The owner of the bar loved us and has told us to plan on making it an annual event. When we were playing the bar would get just packed in tight and the people really seemed to appreciate what we were doing. We're basically an 80's rock cover band and the set list was tailor made for dirt bikers. It was kind of nice to hear a lot of compliments on what we were doing, even though I heard every mistake and probably could use some work on fine tuning our sound.
We had a negative ROI on the whole deal, but we weren't in it for the money anyway. 3 of the members of the band were desert racers back in the day. 2 have done the VGCP before, and the rhythm guitar player has done it 26 times. He's friends with EVERYBODY in town. You could not go 10' without saying hi to another friend of Micah's, and playing this gig was on his bucket list. We got paid in t-shirts and free beer. The owner also gifted me an 18" powered subwoofer and another little monitor that were just taking up space. I think he just wanted to get rid of them.
Anyway, That's how my weekend went.
The Old Washoe Club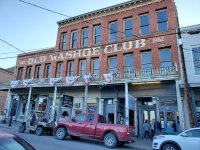 View from the stage
View of the Stage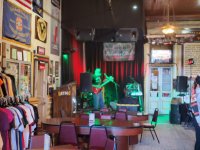 Me on stage, with my Rickenbacker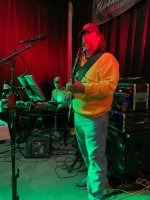 The Combination Shaft - Thats 3000' deep under the gratings.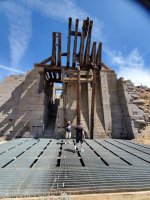 Start of the race
From a hill next to the Combo Shaft
Video from one of the riders.
Last edited: