Hello!
We made 2 sets of shutters a couple of years ago for a customer. Both were stained and then had 2 coats of Minwax Helmsman Spar Urethane on them. The set that is under a covered porch are fine. However, the set that is more exposed has started showing some spots where wood is exposed (it appears probably where there were knots) and also areas where a white haze has developed. They are located south of New Orleans so alot of humidity and heat.
We are trying to determine what to do but want to make sure we don't end up with the same problems down the road. We stopped using pine for shutters. At the time, we used it upon request and this wood matched the customer's door. We currently only use cedar.
Any ideas on what caused the white haze? Do you think it is worth remaking using pine? Or should we just suggest replacing both sets with cedar.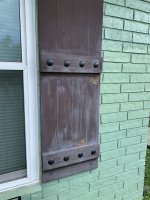 Thank you for your help