I followed the rather excellent tutorial here:
http://johns-woodnstuff.blogspot.com/2013/11/shrink-pot-tutorial-pt-1.html
which explains it better than I could!
The short version is that you core out the middle of a hunk of a
green
log/limb and then cut a groove around one end and snap a fitted piece of dry wood into the groove. The green wood shrinks and theoretically gives you a tight seal around the base (mine would hold pencils well enough but water not so much - I believe wood choice for the outer part would also play in here).
I admit to using a large forstner in the drill press to do the bulk of the removal. So far this is the one project I've done where I
really
wished I had a couple of in-cannel gouges. Its possible with out-cannel, but limits the possible height and it definitely awkward. I lost two while cleaning out the middles, partially from being to aggressive partially due to using the out-cannel gouges which puts more strain outward).
These are all done with some crap elm I got from a friends tree a few months back. I think they're probably close to as dry as they'll get at this point. Left them unfinished for now.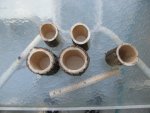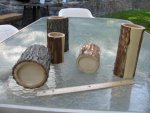 Definitely a fun little project and they don't take super long to make, maybe an hour each if you're not in a hurry (not counting the time spent cutting down the tree
)