I'm selling my Yorkcraft YC-8J 8" jointer and Grizzly G0453PX 15" planer to make room for a Hammer A3-41 combination jointer/planer.
The Yorkcraft jointer was one of the house brands imported and sold by Wilke Machinery pre-2007. The beds are 72" long. It has a 1 1/2 hp motor that can operate either 115V or 240V. It is currently wired for 240V operation and I replaced the stock power switch with a magnetic switch. The stand has a built in mobile base. As shown in the pictures, I have the manual for the jointer. I forgot to include them in the pictures but I have the push blocks for the jointer too. It is in good working condition.
The Grizzly planer appears to have the same specs as the G0453Z currently available on Grizzly's site for $1795. It has a 3hp single phase 240V motor and has a spiral cutterhead with replaceable carbide cutter inserts. I bought the planer in 2014 and may have used it all of 3 times so the cutters have very little wear. It includes 4 extra cutter inserts still in the original packaging. I mounted the planer on a heavy duty mobile base instead of installing the foot-lift mobile base that came with the planer. The heavy duty mobile base will be included with the purchase of the planer. As shown in the pictures I have the manuals for the planer. It is in good working condition.
I'd like to get $400 for the jointer and $700 for the planer. I don't want to mess with trying to crate these up for shipping so they are both available for local pickup only in Edmond OK...that's about 15-20 minutes north of Oklahoma City along I-35.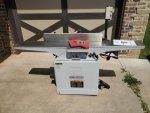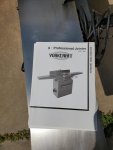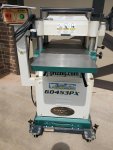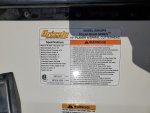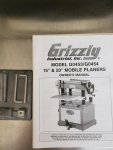 Last edited: