Administrator
Staff member
The grandson decided to sit down on a little doll table his Great Grandpa made for his mom and we've been letting his sister use, while they are over.
It ended up stripping and bending the screws. So we took some time out to go do the repairs this afternoon.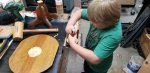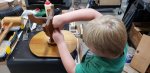 He was proud of his work and his little sister did give him a big hug for fixing it too.