Administrator
Staff member
For the upcoming cnc table build I thought one of the portable band saws would come in handy. I had a coupon for the HF one at $99, which is normally $134.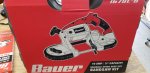 It looks to be pretty well built. Had a guy that was in line with me that said he's compared it to his Milwaukee and it's built about as well. I'm sure that there are some differences in quality, but am pretty happy with what I see of it so far.
The case itself has storage for additional blades, the manual, wrenches, and the tool itself. My PC 690 router is there as a good comparison for size.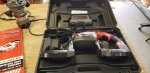 I plan to weld up a small stand/table for it. May also do make it work as a chop saw.