Every now and again I'm just toodling along in the shop minding my own business and I'll think. . . "hey, I should post that just for the sake of conversation".
Those of you who have these already know but for those, who like I, wondered why anyone would pay $XX for a push block . . .
I don't do a lot of small stuff but, Christmas is upon us and in my world, that means attack the scrap bin!!!
I needed a couple 1/4" x 1/4" rabbets in some pieces 1-1/4" x 1/2" x 6-1/2" long. Yes, if I wasn't making this thing up as I went along, I would have cut the profile and then sized down the piece but, I digress.
Set the block to hold the piece down as well as against the fence.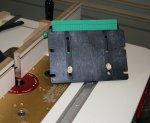 Pop the little doo-dah in like so.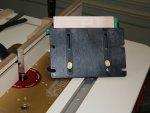 Run 'er through.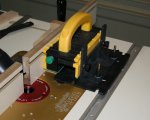 And do that a bunch more times; safely, quickly, repeatably.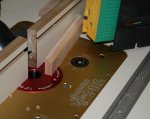 Next time I'll do the profile, then rip the width and cross cut to length . . . yeah, like I'm doing this again till next year
.