Today while I was out, FedEx dumped off my new saw. It was in my parking space. Way too heavy to move the box to the house, so I opened it up and carried the individual components to the courtyard and assembled it. The rolling cart was easy with the instructions being simple to understand. Not so much for the table saw. They had little diagrams that were not shown in relationship to the overall saw. So you were looking all over the saw trying to figure out where the detail was they were showing. I persevered and managed to get everything assembled with only the fence remaining.
First I should say that while putting both the rolling stand and table saw together I was getting a real appreciation on how both were designed and constructed.
When I came to the fence, I struggled to get it to fit the saw. Something was just not right. I looked much closer and realized that the saw was damaged. The back fence rail had been pushed in at one end, preventing it from fitting or sliding. I looked again at the box and found a small inconspicuous hole in the box. The box must have been dropped and the end of that rail absorbed the blow. Frustrating in that it was not very visible and that I only found it after assembling the entire saw. It truly was the last thing other than plugging it in.
I now have to get it in the back of the pickup (still trying to figure that out) and take it the Home Depot in Omak. Luckily (?) we are driving over there tomorrow anyway. I intend to get a refund and the go buy the same table saw over at the North 40 Outfitters, also in Omak. I noticed just now they have one in stock.
The only good thing out of all of this? I should be able to assemble the next one much faster.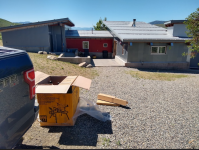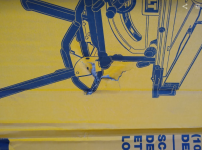 Last edited: