Administrator
Staff member
We went down this weekend to work on the farm house. I spent most of Saturday morning spraying outdoor cleaner and power washing the siding and roof of the house and front of the garage while my wife cleaned up the flower beds and trimming shrubs. Also installed some solar lighting since there aren't any porch lights on the front (for now)
.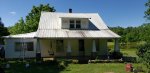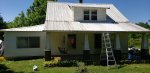 The toilet was another project I needed to work on. It's about 15 years old and there was a leak somewhere on the tank, so I brought parts to just rebuild it and put all new seals and valves in it. We also brought a couple of cartons of left over flooring from our house to cover the bathroom floor. Upon removal of the toilet I could tell I was going to have more work to do. I knew the floor wasn't real level, and had brought some leveling compound, but I could tell the subfloor was wet and spongy.
I was actually afraid the only thing holding up the toilet was the flange/pipe. After a little digging it turns out they used an OSB type of board (quite old actually, probably 40 years old with the layers of tile that I removed). The leak around the flange caused a large area to rot out.
After cutting back to un-rotted subfloor, it turned out there was a layer of tar paper and the oak planks below that were in great condition. I found some scrap lumber in the garage and was able to build back the areas that were removed fill where needed. I was then able to start getting laminate laid. I got enough done to re-set the toilet, then finished up the flooring this morning.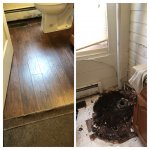 Her grandpa actually hand dug the basement under this house, shoring it up, hand mixing all the concrete by hand, and replacing the old rock foundation section by section. It's no wonder he's lived to be 98, 99 later this year. Still sharp as a tack too.
He's harnessed one of the springs on the property and gravity feeds it into a trough he built in the basement. The water comes in at 55* year round. He used to pump that water through the baseboard heating radiators through-out the house. He now has it ran to a heat pump system that uses the water to cool the house in the summer, and pulls heat from the water in the winter to warm it.