Administrator
Staff member
Our band played a show Friday evening in Angel Fire NM for their Cool Summer Nights concert series. Angel Fire is a ski resort in a beautiful mountain valley, and one of our favorite places to play. LOML and I left the house at 10:00 AM Friday and got home and unloaded about 1:15 AM Saturday. It was a long day but worth it. We had perhaps our most fun show ever with this band, playing to a very appreciative crowd. Beautiful weather (a bit windy at the start), with partly cloudy skies and temps in the mid-70s.
A little side story: Our tip jar set a record of $591 at this show. To put that in perspective, a very good night at a typical bar gig nets $100 in the tip jar. (And the tips are on top of our regular pay.) But during the intermission at Friday's show, a guy came up to Donnie (our drummer) and said he was getting ready to offer us $100 if we'd play some Pink Floyd, but we beat him to it by playing Comfortably Numb to close the first set. (It's always a crowd favorite...we do a nice version of it and it has my best solo of the night.) So he gave us the $100. Then he said he'd repeat the offer if we'd play the song again. Jokingly, Donnie asked "How many times do you want us to play it?" They guy checked his wallet and said "I've got enough for three more times."
We didn't take him up on his full offer, but we did play the song again later in the second set, and true to his word, he chipped in another $100 bill.
But even without his contribution, we broke our all-time tip jar record. Toward the end of the last set, people were literally lined up waiting to drop money in the jar. But better than the money, the crowd was very responsive to every song, and we got many, many compliments afterward. That's the best part of this hobby.
Here's a few photos LOML grabbed along the way:
Our Office...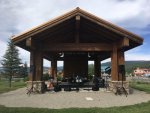 The boys at work...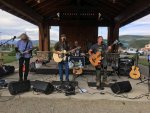 Pretending I know what I'm doing...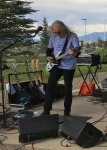 A quick panorama shot from my perspective...

Donnie getting ready to count the tips...