Well, not really, just looks like it...
This blank was sold to me as "spalted maple", but obviously there's a lot more going on here than just simple spalting: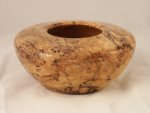 About 5-1/2"x2-1/2". Very soft, about like turning styrofoam, with about a pint of CA glue providing most of the structural integrity. Inside is pretty rough, but anyone who sticks their fingers in deserves whatever happens: there may very well still be something alive in there.