Hey all,
A few years ago I bought an industrial dust collector in the midst of having issues with a local inspector. Well I never ended up having it installed as I decided to move my shop to a different municipality. To make a long story short, I bought it and decided to not put it into service.
This DC was taken from a much larger cabinet shop here in Grand Rapids, MI. I have not seen it working, but I know it was taken directly out of service only to be replaced with a much larger unit.
Anyway, this is a 5 horsepower Dustkop collector. It has a baghouse filter unit with a shaker motor, and all parts and pieces are in great shape. The Michigan company that manufactures this machine is still around and supports any and all of their machines. When I purchased this unit I contacted the company, and any broken or questionable parts were purchased. I have them in a box, new and ready to install. This is a tall unit around 11 feet tall, but it's a great US made machine from a company with a long standing reputation for making excellent dust collectors. The current motor is 3 phase but it could easily be swapped out for a single phase.
$2,500.00 OBO. Thanks!
Regards,
Hutch
P.S. There is a stand for the cyclone not shown, plus a 55 gallon steel drum.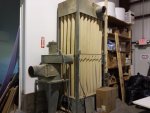 Last edited: