Administrator
Staff member
One thing that has bothered my wife since our kitchen renovation is a small space where our cabinets end and the soffit extends to the end of the kitchen. When we originally moved in the house we moved the kitchen light switch to this location, then I built cabinets but stopped them short of the corner because of the switch. I then moved the thermostat to this location as it was more central to our house to keep the floor temps more in balance. When we did our kitchen remodel I had planned to removed the soffits, but she insisted on keeping them.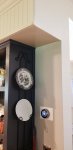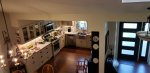 As you can see we installed the new cabinets to fill all the way to the end on the opposite side.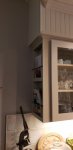 I've offered to move the switch and thermostat to the other side of the wall and extend the black cabinet, I've offered to remove the soffit and re-texture the ceiling after patching, even talked about doing a faux set of beams to cover all of the wall ends. The other day she asked if maybe we could just put a corbel up there to balance out each side of the kitchen and make the soffit look like it is supported by it.
So I've spent a few evenings drawing up some corbels to try. I photo shopped them over the pic from the stairway side to get her sign-off and this was the winner.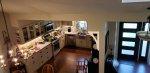 So I've started milling out the parts for it on the cnc. I'll have to glue a few layers together to get the overall width.