In my effort to continue on my Keto I have been playing around with various recipies using Almond flour. This is one of my favorites.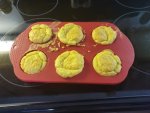 4 eggs - I use 1 cup of egg beaters to make it lo cholesterol
1/4 cup oil - I use EVOO
1/2 tsp kosher salt
1 table spoon baking powder
1 cup almond flour
bake at 350 for 20 minutes.
I sometimes will add onion flakes or fresh blue berries
about 200 calories
4 grams carbs
2 grams fiber
enjoy
.