Since I didn't get the place up north I decided I needed a new Lumber Hauler.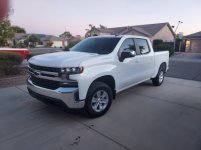 It's got the 3.0 liter turbo diesel rated at 310 Hp. with and 8 speed transmission. I was very impressed with the pickup. When you step on the accelerator it doesn't hesitate plenty of power. Rated at 9,000 towing capacity. Even more impressive is the fuel economy. If the onboard computer is even close I am going to be more than happy. According to the computer driving it home on the freeway it's getting 60 mpg. I will take it to California on Wed so we will be able to get a real idea as to what it gets.
well as it turns out I wa reading something wrong but if it gets the 24 town and 37 highway that they state i'll still be a happy camper.
Last edited: