Administrator
Staff member
As I mentioned in the Friday thread, my band played a Halloween gig last night at the Dragonhorn Tavern. In addition to being one of the four bands that plays there regularly (second Friday of every month), we have been their go-to Halloween band for years. This tradition started before I was even in the band. I think some version of this band has played for 13 of the last 14 Halloween parties the Dragonhorn has had. (If my math is correct I've played at the party for 9 of the 10 years I've been in the band.)
Last night was definitely the biggest crowd I've ever seen in the place. The Fire Marshall would have had a field day had he shown up. There were people who left because there was no place to sit or stand. Everyone I spoke with had a great time. I think it's safe to say we've already got a lock on getting asked to play next year's party.
Here's a pic LOML took before things got too busy to get a photo of the band...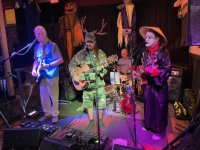 And here's a pic my friend Steve took a little bit later. He was sitting in the row of tables closest to the stage. Behind him was about twice as much space, equally packed...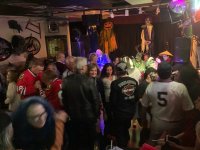 We had a blast. It's hard to describe the energy a crowd like that sends to the band.