Administrator
Staff member
I noticed a few Paw Paws on the ground tonight, so started checking for ripeness. Sure enough, time to start picking before the critters get them all. These were just about a 1/4 of the ones on the tree, none are very big though.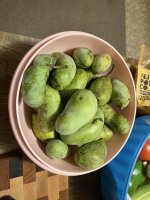 I've found a small grove of them back behind the barn, so will have to go see how many are on them. I plan to put these through a strainer and will make some ice cream or bread, freezing some for future goodies.
I sampled one tonight, about the same size as the one here in the bowl, all those seeds came out of it. I've of course cleaned the membranes off them and am preparing to save them for future plantings.