But got a bit done today.
Some parts
A bit of grinding and polishing. I'll polish the round piece later, and still need to cut the bevels on the rectangular piece, but will also do that later. Not sure how they cut these blades out, but whatever they use sure left a lot of ripples on the sides, took way more polishing than I'd hoped it would. It's definitely HARD anyway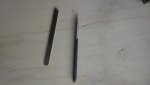 180 grit, 220 grit, 400 grit, 600 grit, 1200 grit and then some green compound on mdf for the bulk of the rectangle. You can sort of see yourself in it, so it's close. It'll need a touch up after the next phase so didn't get to crazy yet.
I also drilled the threads out of the brass pieces and roughly knocked the corners off. Saved a nice little vial of brass filings, which I've wanted to try inlaying so nice bonus there. I'll get more when I cut it to final shape to.
Took advantage of having the coarse grinder out to touch up some cold chisels I got from a yard sale a while back. Man not sure what that guy did to the poor things but they were really beat up, like he'd taken them to hardened bolts and just kept desperately whacking well past any hope. Did this to all of them apparently, not someone I'd let touch any sharp tools if I wanted to keep them that way.
They're all good now though, but a couple took a bit of metal removal..
Despite doing some extensive searching and (admittedly needed) organizing I couldn't find the piece of 1/4" mild steel round stock I know is around here somewhere. Will have to pick up a replacement tomorrow as that's the next step. Was hoping to be mostly done with the metalworking part today but was not to be.