For the past four months I've been helping my son-in-law, Tim, who is a stained glass artist, with a big project to remove and rebuild some stained glass panels from the Oklahoma State Capitol. The project involves over 300 panels and I've posted pictures of some of that on-going activity on other threads and I'll add more pictures here, since this is a newly created part of the forum. This week, in the middle of that job, he received a new hurry up and get it done now contract to remove and store over 144 more panels from the house and senate chamber ceilings, 60' from the floor ... so the HVAC and electrician guys could access the "attic", accessable only by a twisted maze of narrow catwalks!
,
.
Each of these glass panels is roughly 20" x 40" and weighs about 18 lbs. Tim worked in the sweltering hot attic to remove each plexiglass dust cover and the accompanying stained glass panel, then passed them both, along with a face full of insulation and dust, down through the hole to me, on a ladder on the almost just as hot "dance floor".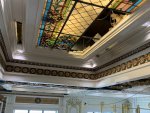 .
The "dance floor" is a scaffold platform built a long ways up from the house/senate floor to allow craftsman access to the ornately decorated ceiling for painting, repairs and new lighting.
.
They call it a dance floor 'cause that steel plank is kind of springy and gives a bit when you walk on it. Don't like that feeling much.
We didn't have time to build crates. Ended up buying 5 x Kobalt job site boxes to store the panels in. Loaded with glass, each box topped 750lbs so we were careful to straddle the support structure to spread the load over two sections of planking.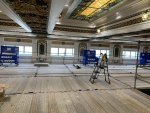 ,
Those boxes weigh 135lbs empty, so we ended up hauling them up on a winch, which initially couldn't take the load and needed reinforcing.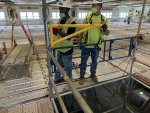 We hope to finish this work early next week so we can get back to building windows.
Last edited: