Administrator
Staff member
All that talk about sous vide got me hankering to use mine.
So, Sharon bought some big thick good looking ribeyes at costco and that's what we had.
First, I season them up with a little salt, pepper, and some montreal steak seasoning. I'm not canadian, but I like it. I make my own blend and use it on my steaks.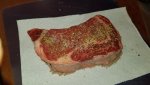 Next up is to vacuum seal it up.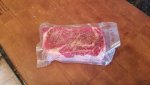 I put it in around 3:00pm today at 130 degrees. I usually only do an hour or so, but I thought it would be fun to do it a little longer.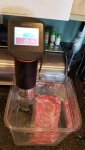 Pulled it out around 6:30pm. Doesn't look real good in the bag, eh? Well, that's because it needs a quick sear.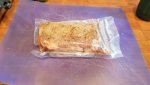 So, Time to put the cast iron to use. Heat it up good and hot. I didn't put it on full blast, but pretty hot. Measured over 750 degrees on my infrared thermometer. Put it in the pan for 1 minute per side.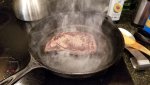 Sharon and I always split a steak, because, eh, Getting old. Don't need that much meat. But it was very, very tender. I might have to check what temp I really want my steak at. I think I could have stood for it to be a bit redder, but this was just fine.
Sauteed up some squash and cremini mushrooms in olive oil with some garlic and parmesan cheese. A fine meal to end the weekend with.