I'm not sure if this is the correct category but maybe admin can advise. I use wood dowels in just about every project I make and it is a real pain to keep them organized. I finally came up with a system that works really well (for me anyway) so I thought I would share it. Here is a picture of the rack: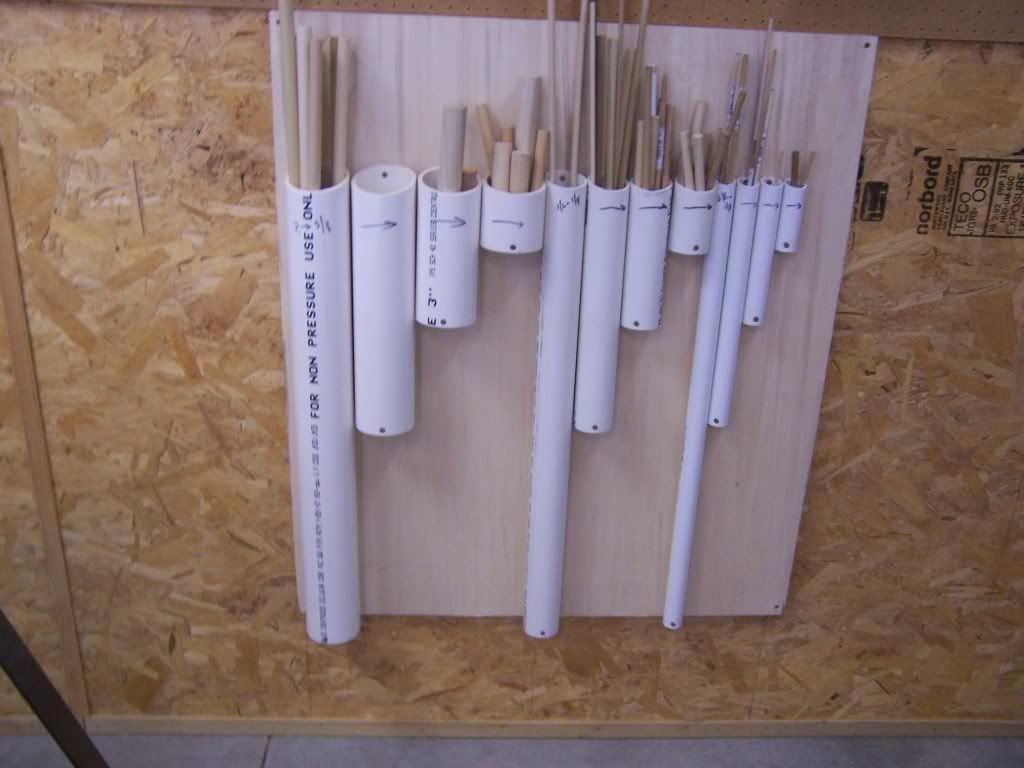 I use PVC pipe mounted on a sheet of 1/4" plywood. Each piece of PVC has a slight angle cut at the top which allows me to install a countersunk flathead screw from the inside of the pipe as shown in the following photo:
At the bottom I installed a 3/4" wood disk inside the pipe. I installed one screw in the front of the pipe to keep the disk in place. Then I installed another screw from the back of the plywood into the pipe and into the disk. To make the disk, cut of about 1/2" of each pipe size. Then set the piece you just cut off on top of a scrap piece of 3/4" and trace the inside diameter. Cut the disk and sand to fit.
I mounted a strip of 1 x 2 around the perimeter of the back of the plywood to attach the plywood to the wall and to provide a solid surface for the top mounting screws for each pipe.
There are three different sizes of PVC pipe, 3", 2", and 1". Each size has four lengths: 30", 15", 9", and 5".
This project is probably is not exactly a woodworkers dream come true but for me it is something that has proven to be very useful and is something that I would not give-up in my shop.