Finally finished the last two jewelry boxes for the 5 granddaughters. Will be delivered next week. I actually made 6 total with one being my prototype … and this one went to Grandma. A little more detail on the first ones can be found here:
https://familywoodworking.org/forums/index.php?threads/3-down-3-to-go.41134/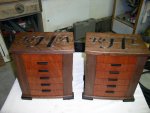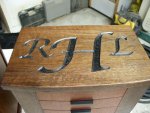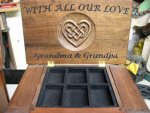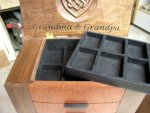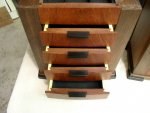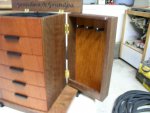 Construction details:
Woods: Jatoba, Walnut, Ash, Ebony (drawer pulls), Ebonized walniut (feet and pegs), BB plywood
Joinery: dowels, drawer lock joints, rabbets, dadoes
Flocking: all drawers and dividers
Finish: Natural Danish Oil, several coats of General Finished HP topcoat (satin), black acrylic paint in lettering
CNC: used to carve the initials and under lid lettering, make the drawer pulls, cutout the feet
Secret drawer: see details at the link above
Thanks for looking.