After the water softener install I spent yesterday cleaning up the shop and fabricating new end stops for the CNC to replace the ones came up missing. I was planning on another shop day but due to a re-laps with that bug that been going around I spent the day in front of the computer. I still have to decide what to do for the spindle and I do have the 4 hp water cooled unit that Carol bought but I felt that it was way to big for my needs and I didn't have 220 anywhere near where the machine is to live and I didn't want to add to the complexity of the build by having to design a water cooling system along with everything else. I looked at the shop and it is not a big deal for me to run a 220 Volt line to that side of the shop since I already have it in the shop. but if I do decide to do this it will effect my over all design for the electrics. I know that Leo has a water cooling system but it was provided by the manufacturer so I am sure it wont be of much help. I haven't seen anything here where anyone else has built a system I know some folks just use an aquarium pump in a bucket of water but I would like something that can mount on the machine and not look entirely like a Rube Goldberg. In my research I have determined that at full load (which I doubt the spindle will ever see) the system would have to dissipate about 600 watts but I seriously doubt it will see more than 1/3 of that. Anyhow I am thinking about something like this.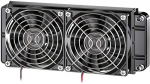 and a pump like this
some teflon tubing and maybe a small water tank and I would be in business.
This would only set me back about $70 which is no big deal.
So what thing the masses.