Well it is not much of a gloat, but it is all mine
Won't mean much to you guys, I bet you can buy this at HF or $20, but for me, buying this auto-retract hose reel for $50 at Costco was great!!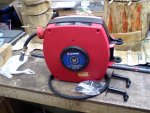 Usually the hose cost more than a buck a foot!
I hung it on the ceiling above my workbench...........
for me, $50 for this was quite the deal!
Cheers!