Hi everyone. As promised, I would like to post a little progress report on our move out to Amish Country in Middlefield Ohio. Since I'm new here, I suppose it would be inappropriate for me to just post the latest stage in the project...So, I'll take it from the beginning.
A long time ago, when I was a lad.... Nope...too far back.
A little over a year ago, I took a ride with my brother-in-law while he checked on the progress of his bedroom set being built by an amish craftsman. We went out to the house and they were jawing about finishes and stains and stuff, so I just wandered around the property, sticking my nose where it didn't belong. The whole time, I was thinking, "Man! would I like to have a place like this some day!".
So, anyway...they were wrapping up their chat, so I sez to Raymond, I sez, "Raymond...this place is just beautiful...I love everything about it."
Raymond sez, "You wanna buy it?"
"Is it for sale?", I asked as I swallowed hard.
He said, "Well...It can be"
That was the beginning. The two of us figured we had about a year. Me?...well, I had to get my finances in order. Raymond had to build a new house on the promise that I was buying this one. Big risk. But it seemed worthwhile at the time.
The property consists of a little over 5 acres and has a barn, a woodshop, and two houses. Here's a satelite pic of the property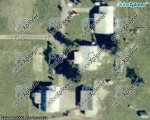 Raymond and his family lived in one house, and his wife's grandparents lived in the other house. The two houses are separated by 32 feet of yard.
Here's the main house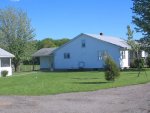 And here's the second house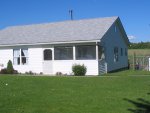 The woodshop is roughly 3000 sq feet upstairs and downstairs with a 22 horsepower diesel engine driving an underfloor pulley shaft connected to all his woodworking tools. There's a compressor also connected to the diesel, keeping a 1000 gallon air tank charged. The air tank supplies pneumatic power for the shop and also runs a pneumatic water pump...keeping the water system for the property at 60 psi.
This is a pic of the Shop and the Barn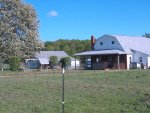 And one of just the shop
There were horses everywhere.
I scared them away.
Anyway...The plan was....kick the grandparents out of their house and join the two houses into one big one, with the new addition to become an atrium that I would generously give to myself as an office....filled with plants and hopefully decorated by Mark Singer.
So I took a picture of the two houses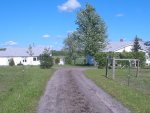 And then Photoshopped an atrium into the picture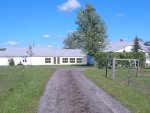 We all agreed that this is what we wanted.
To be continued......