A variation on a plan found in Woodsmith magazine, ShopNotes or the like. I have a thread on it somewhere on here.. I primarily use the bandsaw template jig to make multiple bandsawn shapes more consistent in order to minimize handwork.. I am fooling around with a Lee Valley chair plan I got some time back. I realized that with the number or multiples and odd shapes in a set of chairs I could get an advantage out of the jig prior to template routing.
I gang multiple parts and attach the template.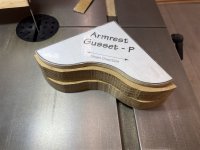 The jigsaw template jig allows you to cut quickly and closely to the template profile.
With the minimal waste left proud of the template, template routing becomes a very lightweight operation with little spoil. You just leave the template attached and head over to the router table; rinse and repeat for all your parts setups.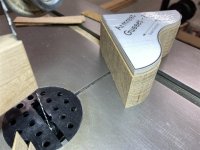 This can lead one to use the process for things that would normally just be one-off'd.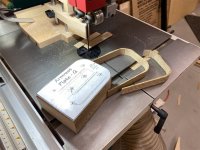 I still use top/bottom template bits at the router table and always recommend routing downhill. In addition to this I hold smaller pieces in some sort of carrier. The extra time spent is only a fraction of the wait time in the ER not to mention any healing time.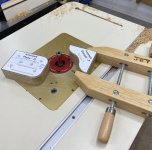 This is not the sort of thing you might do for a couple of parts. It makes more sense when you have multiple sets of multiples and you setup the shop for that process.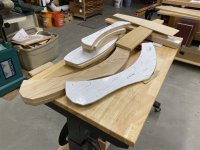 So often setup time is a large part of an operation. When a given setup time is used across a large number of operations the balance tips in favor of the setup effort
Last edited: