Administrator
Staff member
I'll be hopefully finishing up the painting for what was our loft area to make it my wife's office/craft space. She has been wanting to be able to close off the space from the first level since the grand kids room is across the space from our bedroom and also right at the top of the stairs. We'd be able to shut the barn door at night and even latch it to keep the little ones from going (or falling) down the stairs in the middle of the night.
There is a half wall at the top of the stairs opening and I've been trying to figure out an appeasing solution for closing that as well, and not cutting off light from the skylight above the stairs.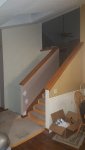 This is what she has approved for the design, the door is just over 8' tall and 40" wide. We'll be looking around at the local restore and architectural salvage places for some older casement windows or at least their sashes. Hopefully I can find some that fit the planned openings, but if not, I'll just make the windows.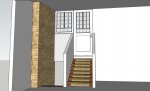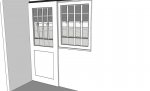 She also wants to cover the main wall next to our stairs with either a barn wood or laminate stone, though not cheap, should make quite the statement in the space.