Administrator
Staff member
I ran over and got more materials to get started on the side window.
The window won't be opening or supporting anything, so just did some simple butt joints with biscuits.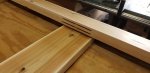 I had just finished gluing up when the grand kids arrived, so letting it cook overnight, then will clean up both sides and router in the rabbets for the glass.