Administrator
Staff member
Here's the last of tonight's lathe photo session. Another red eucalyptus bowl I finished up recently, but it has more curl than most of the other wood I've gotten from the fallen branch I salvaged a while back. It's about 3 1/4" by 6 3/4", finished in my usual wipe-on poly and buffed. There's some included bark, but the curl is what stands out IMHO: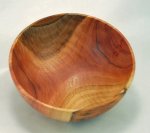 I managed to keep the foot smaller on this one, and stayed away from my usual inward-turning rim: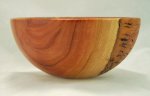 And one more shot to show off the curl some more: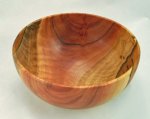 I just may have to heed Tod's advice about driving a few timber nails into the base of the tree this branch fell off of. I'd sure like to salvage more of it.
As always, comments and critiques are welcome...
Thanks -