My shop vac gets a fair amount of use. Aside from general clean up it provides the suction source for my ROS, Router, Jigsaw, etc. One of the first things I did was get a
CleanStream
filter which made cleaning the filter so much easier. The I added a Dust Deputy as an upgrade from my 5 gallon bucket separator lid; amazing improvement. I can empty the DD's 5 gallon bucket a dozen times or more and still only get a tablespoon or so of waste in the vac's main container. The only problem that still plagued me was that now that I hardly ever had to access the 16 gallon vac bin, it was still part of the system.
I had been percolating on an idea (fed by numerous others who have done the same thing) and I had one of those "moments" yesterday. I call these my "that's it" moments because something that was an observation turns into an inconvenience, then blossoms into an annoyance and suddenly . . . without warning . . . will become INTOLERABLE! A switch flips in my brain and a very large voice shouts "THAT's
IT
. . . I have had it!".
I got up a bit early this morning and built this proto type. It was too early for the DC and larger tools so the scroll saw got put to use: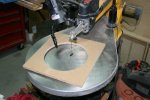 .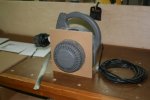 This prototype is built out of scrap particle board that LOML brings me from her work. They are used as pallet "stack" dividers in the trucks that come and go. The drivers leave them for here as their loads get smaller and smaller during the runs. The material is pretty questionable so I seat a t-nut with a clamp as a hammer blow would probably destroy the panel.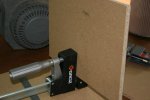 .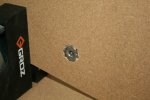 There is a chamber within a chamber just like in the original vacuum. A chamber for the blower pulls are from a second chamber through the filter. The filter chamber has the ingress from the Dust Deputy.
.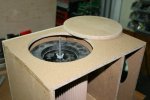 .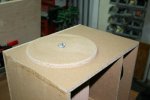 A hole cutter is used to make the hose connection hole.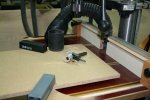 .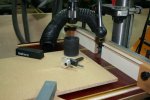 cont'd . . . . .
Last edited: