Administrator
Staff member
I tried my hand at baking sourdough bread for the first time yesterday. It came out yummy, but the crust is a bit harder than I wanted. It's so hard that a sharp bread knife has trouble getting through it without a lot of sawing. Hmm...sawing? We have the technology.
I'm pleased to introduce the Shop Fox W1706 Bread Slicer: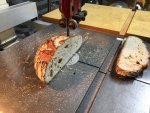 Add a bit of butter and cinnamon sugar, then a few minutes under the broiler, and voila!