I continue to whittle away at my inventory of heart pine. These pieces are small cutoffs from some large beams that were salvaged from a warehouse that was built in the 1840's, A lot of the pieces I have been given have mineral staining probably from where metal fasteners or reinforcements were used.
First is a small calabash form bowl about 2 3/4" tall and 3 3/4" in diameter. I just love turning this stuff. It smells so wonderful and it brings forth memories of my childhood when my father was installing knotty pine paneling in our family room. This stuff smells like it was just cut.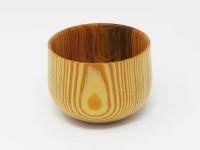 The second bowl is smaller at 2" tall and 3 1/2" in diameter. It has significantly more staining as you can see in the second picture. The way shapes play with the straight grain in this timber fascinates me. I love the third picture where you are looking over the rim into the bowl and see the concentric circles of grain.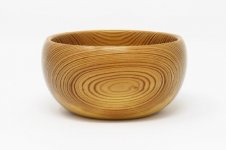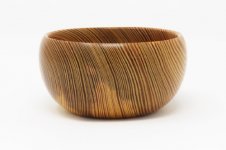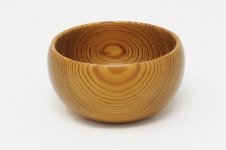 Last edited: