since starting the Keto diet not quit 4 weeks ago I lost 25 lbs. Part of the process is keeping the carbs low yet maintaining a proper ratio of Fats to Protein. I have no problem keeping the carbs down and typically will only eat between 12-19 net carbs per day according to my Carb Manager app but I find it difficult to keep the Fat to protein ratio where it need to be for some reason the proteins always try to overshadow the fats and I am lucky to get 70% fats. In my quest I discovered that dairy is a good source of fats and cream cheese the whipped kind is only 1 carb. per table spoon. Now I love a good bagel with cream cheese but you typical bagel run about 50 carbs which is 2 1/2 time my daily allowance in one serving. I have been playing with biscuits made with almod flour as a substitute and finally was able to come up with this recipe.
2 X-large eggs (it what I had on hand)
1 Cup almond milk
2 cups almond flour
1 tsp baking powder
1/2 tsp sea salt
Mix wet ingredients for then blend in the dry ingredients. Add a little almond flour if need until dough is sticky
Place on baking sheet with parchment paper I used an Ice cream scoop to portion.
Bake at 350 for 20 minute
each biscuit is 1-2 net carbs depending on size.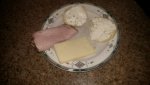 my breakfast slice of deli ham slice of Montery Jack cheese, 1 biscuit with whipped Philly jack cheese
5 total carbs 2 fiber net carbs 3g
31 G fat (75%)
20 g protein (21.1%)
total calories 371.
now to come up with a low carbs sausage gravy recipe.